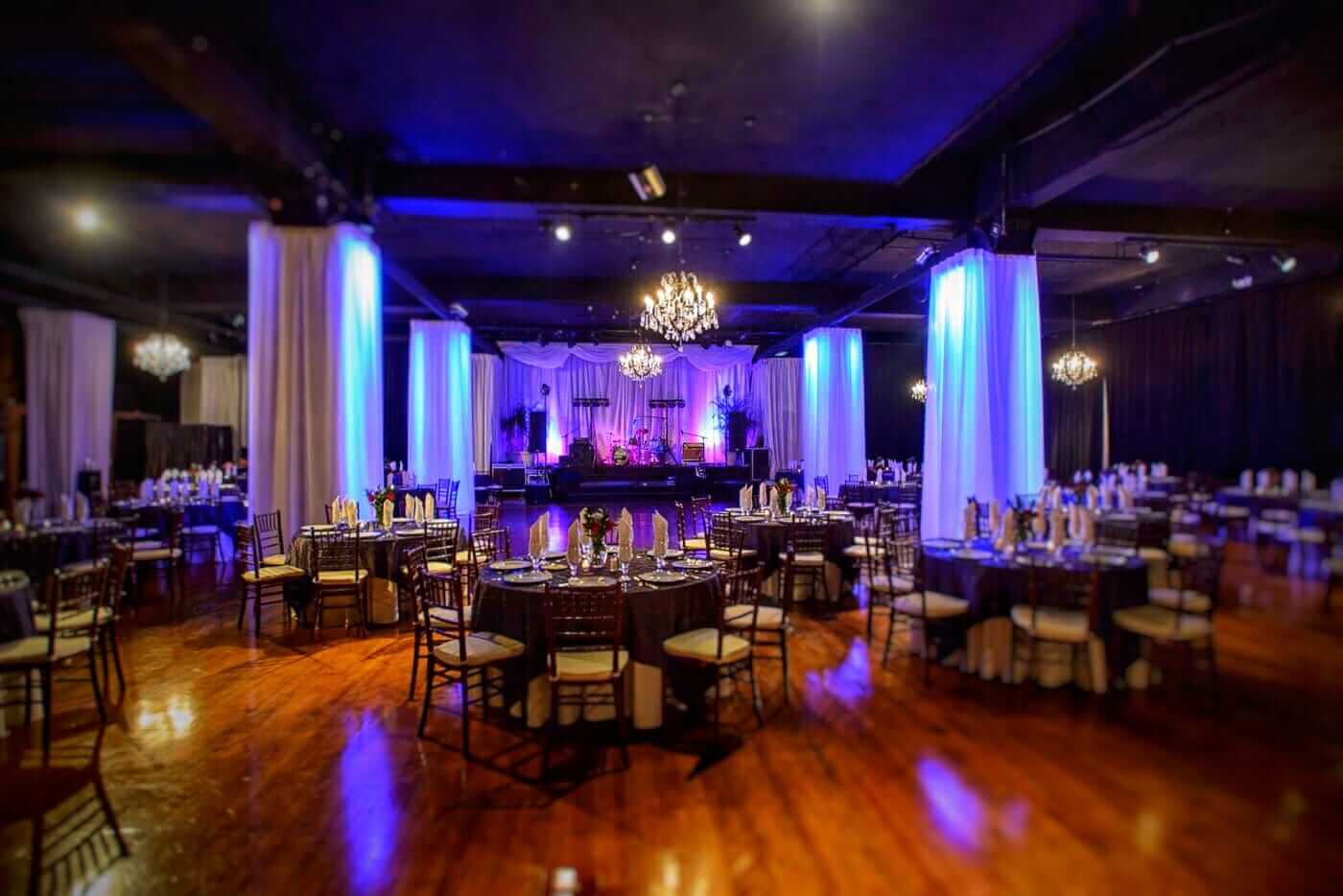 How to Ramp Up Your Event with Decor
Once you've booked your venue for your event, how do you set the scene and create the desired vibe? Let us show you how to ramp up your event with decor. You"ll also learn important design steps and how the Millennium Center can help you achieve your vision.
Elevate your event with the right decor
Selecting the right decor, whether it's for a wedding, social celebration or corporate event, sets the tone for the occasion, enhances your theme and provides your guests with WOW moments. It's all about colors, shapes, texture, and lighting. And with corporate events, you also have the added element of branding. So where do you start?
First things first
Before you start looking at linens, serviceware, floral arrangements, and lighting, make sure you have a clear understanding of your event's purpose.
Sure, it's a wedding – but what does this celebration really mean to the two of you? And how can you best express it? Think about shared interests and the unique ways you show your love. Thinking this way helps to develop a theme, which then leads to decor ideas.
Corporate events often have more than one purpose. For example, a nonprofit organization raises awareness and funds through an afternoon fashion show and then honors key donors with a dinner gala. Whatever the occasion, the brand must be ever present.
Nail down the basics
The type of event and number of guests obviously impact the layout of space and equipment needed. Millennium's experienced event managers understand what's needed for each occasion, how the event should flow in the space provided and can recommend ways to get the most out of the venue. 
There are lots of pieces when it comes to the event puzzle.  Finding them under one roof saves time, stress, and money. Millennium Center covers all of your "basics" – from Chiavari chairs and tables to lighting and A/V equipment. And with on-site food and beverage, all of your linen and serviceware needs are also covered.
Develop a color palette
There's nothing more elegant and classic than a white or black decor scheme. But color is important to the senses and can elevate an event when used judiciously. And corporate event planners understand the importance of integrating the "company colors."
The best way to build your palette is to start with one or two colors as the main hues. Then you can pick one or two secondary colors to support them. One of the secondary colors should be a neutral to tie focal colors together. And don't forget accents like metallics, crystals, or pearls.
Tying it all together
Color is just one decor element. While color covers sight, texture enhances the sense of touch. This is where specialty linens can enhance that sense and provide elegance. At Millennium Center, you can choose from 25 floor length linen colors and textures. 
Serviceware is an excellent way to tie decorating elements together. Bone china with a platinum trim gives you a neutral color and a hint of metallic. Complete the setting with a gold or silver charger. Consider upgrading standard knives, forks, and spoons to an interesting pattern. And make it pop with colorful linen napkins.
Once you've put together a beautiful foundation, give it the finishing touch with an arrangement. Work those primary and secondary colors, along with your accent, into a statement floral design. Or keep it simple with romantic candlelight and greenery. Millennium's full service floral and design department can craft just the right look.
Light it up!
Great lighting can wash a room with color, highlight important details and people and, when combined with the right music, raise the energy level. And uplighting can change throughout the event to match the mood.
Lighting at Millennium Center includes LEDs on the lobby ceiling, columns and back of the stage. Our ceilings are adorned with crystal chandeliers.  And the interior support columns of the Grand Ballroom are draped and uplit to give another layer of visual interest.
Great decorating trends
Now that you've gotten the basics, here are five cool trends we're seeing. And with big corporate events coming back into play, planners will want to check out more new ways to engage attendees.
Hanging floral installations: The ceiling is often underutilized in decor. It's why we swag crystal beads to beautifully reflect the light from our chandeliers. But we also love hanging floral installations. Give some visual interest to your head table or create a special entrance with an overhead floral design.
Sustainability and multi-purposing: These two trends are fast becoming decorating cornerstones. Sustainability is all about reducing waste and the carbon footprint – remember that one-stop shopping? And multi-purposing decor means saving money.
Playing with patterns: Don't be afraid to incorporate patterns into your decor, especially if it can express seasonality. And if you're a corporate planner, consider having a textile made with your company colors and logo.
Custom dance floors: LED monograms are enjoying a resurgence in popularity and now you can even vinyl wrap a floor. The dance floor is THE place for fun colors. And for corporate event planners, it's another layer of branding.
Projection mapping: Transport your guests to another world with projections on the ceiling and walls. Projection mapping can also be used on a building's exterior. Again, it's another way to build that corporate brand.
The Millennium Center is a top Winston-Salem wedding and event venue because of our professional, full service, one-stop approach. Between our in-house services and relationships with the best specialty decorators and rental companies, we'll help you ramp up your event decor. Let's connect and learn how to make your occasion something to talk about for a long time.
Share this blog post!